Are you looking for the best gifts for swimmers in 2023? Then you are in the right place!
Keep reading for the best gifts for all types of swimmers. We created the most incredible gift guide for all swimmers, from young to sea swimmers.
Are you a parent or coach scrambling to find the best end-of-season gift for all the swimmers? We got you! Are you looking for a Christmas gift or Hannukah for your swim team buddy? We have the perfect gift ideas for the holiday season too!
Dive into our 2023 best swimmers gift guide below!
*Note, this section includes affiliate links. As an Amazon Associate, I earn from qualifying purchases.
Gifts for the young swimmer
Pool noodles: these are great gift ideas for beginner swimmers and those learning to swim! They also make for fun in your backyard pool.
Character swim cap: this is a great way to get young swimmers open to wearing a swim cap.
Hooded towel: we love the hooded pancho shark towel for the little swimmer and it is quite fashionable on the pool deck!
Colorful zinc: kids love the pop of color, and parents love the sun protection- it's a win, win!
Water bottle: keep your kiddo hydrated with a reusable water bottle, or an insulated bottle for hot drinks.
Fins: young swimmers love fins! They give any swimmer a boost of speed in the pool.
Goggles: any pair of goggles will do the trick! Get your outdoor swimmer tinted goggles.
Swimming gifts for the competitive age group swimmer
Waterproof playing cards: this is a great gift for swim meet entertainment and you don't have to worry about water damage.
Socks for fins: this is a smart move for the swimmer who gets blisters from fins, try neoprene socks!
Bungee goggle straps: are good swimming gifts for the swimmer who accidentally rips goggle straps. Bungee straps increase the life of your goggles!
New swim bag: swim backs are essential for carrying practice items, things swimmers need for a swim meet, and gear needed for swim lessons!
Dry bag: keep your change of clothes dry with an Aloha waterproof bag.
Tempo trainer: for the teen swimmer this is a great gift to help improve speed and tempo!
New tech suit: this is an ideal swimmer gift for the swimmer with an upcoming championship swim meet.
Parka: gift your swimmer warmth with a cozy swim parka. A great choice for indoor or outdoor winter meets.
DMC fins: these fins are pricey but last forever! They are great for competitive swimmers, ocean swimmers, and bodysurfers.
Expert swim lessons for technique advancement: a one-on-one swim lesson with an expert to improve technique is a gift your swimmer will certainly appreciate.
Waterproof phone case: the LifeProof phone case will help to protect your swimmer's phone.
Lotion: with a lot of time in chlorine, swimmers tend to run extra dry on land. Gift your swimmer a bottle of body lotion they can keep in their swim bag.
Gifts for high school, college, and the professional swimmer
Drag socks: this gift adds resistance and helps your swimmer improve strength in the pool!
Oura ring: buy an Oura ring so your swimmer can track their heart rate, sleep, and recovery.
Stretch cordz with paddles: the stretch cordz with paddles are a perfect addition to your swimmer's dryland routine to stimulate swimming at home!
Stretch cordz: we highly recommend this gift for older swimmers looking to improve speed!
Dome cap: gift this to your swimmer before their next championship meet!
"At Last: Life After Sports Transition": this is a book we recommend you gift to a college or high school swimmer who will soon be done with the sport to help with transitioning to life after sport.
Swimming parachute: a useful gift for a swimmer looking to practice more resistance swimming!
Roller: recovery is key, gift your swimmer a grid foam roller to use after practice, it will certainly get good use!
Theragun: this is an excellent gift that swimmers will be sure to use after hard practices.
Gifts for masters swimmers
Fitness trackers: we love the Garmin swim watch and Apple watch for tracking swim distance and your hard work. Keep in mind if you kick or change strokes mid-lap your distance data from either watch may be skewed.
Tech goggles: the FORM smart goggles come with a higher price tag but are a great gift for lap swimmers who want to track their laps and pace in real-time metrics.
Waterproof headphones: for some adult swimmers, it can get boring swimming alone. Gift them the Finis duo underwater MP3 player so they can listen to music, a podcast, or an audiobook while swimming laps.
Membership/pass to swim at a gym when out of town: keep your swimmer in a good mood get them a gift card or gift certificate to swim while out of town!
Waterproof swimming workout book: a great gift for swimmers to have on-the-go workouts. Or, print out our HIIT swim workouts or share our swim workout generator to spice up their training routine. 😉
Professional massage: most swimmers walk around with tight shoulders! Gift them a professional massage or cupping session to loosen up.
Resistance bands: a practical and helpful gift for shoulder warms up and strengthening at home! 
Swimming gifts for open water swimmers
Wet suit: for swimmers that like to cold water swim with an extra layer of warmth!
Swim buoy: necessary for swimmers to carry fuel during long open water swims. 
Bright swim cap: keep your wild swimmers visible to boaters and others with a bright swim cap! 
Changing mat: minimize dirt in your wet suit or sand in your car after your swimmer's wild swim by gifting them a changing mat. 
Training suit: gift your swimmer a new swimsuit! The two-piece training suit by Jolyn is a good swimming gift to help your swimmer get rid of their one-piece tan line! 
Swim team gifts in bulk
Lunch bags: personalize these insulated lunch tote bags with the team logo for an excellent end-of-season group gift. 
Swim caps: buy swim caps in bulk and add last names or the team logo to make this swimmer gift more personalized. 
Shammy towel or neoprene towel: by shammy towels in bulk to gift each swimmer, especially for the hot summer season! 
Personalized towel: gift each swimmer on the team a towel with the team logo embroidered! 
Reusable plastic water bottles: add a team sticker to each plastic bottle as an excellent gift for each swimmer and helps with hydration!
Swim team buddy gift ideas
Hair ties: swimmers with long hair need hair ties to help put their hair in a swim cap. One can never have too many hair ties. 
Swimming snacks: You can gift your best friend swimming-themed snacks like Swedish fish, gummy sharks, or any swim meet snack from our guide.
Swimming-themed t-shirt: a good ol' eat my bubbles t-shirt is always a good idea. 
50. Chapstick or sunscreen: we love the smell and feel of the Sun Bum sunscreen and chapstick that includes SPF for UV protection for your favorite swimmer.
The Best Swimmer Gift Guide
In conclusion, our comprehensive gift guide for 2023 is the ultimate resource for finding the best gifts for swimmers.
It serves as a great source of inspiration, offering a wide range of swimmer gift ideas that will impress. Whether you're searching for the perfect present for a young swimmer, a competitive athlete, or even a seasoned professional, our guide has you covered!
From practical items like swim bags and goggles to high-performance gear like tech suits and tempo trainers, we've curated a collection that caters to all swimmers.
Whether you're seeking the best gifts for swimmers, in need of swimmer gift ideas, or simply looking for the best gift ideas to surprise a swimmer in your life, our guide is your go-to source, ensuring you'll find the perfect gift!
Other posts you may like: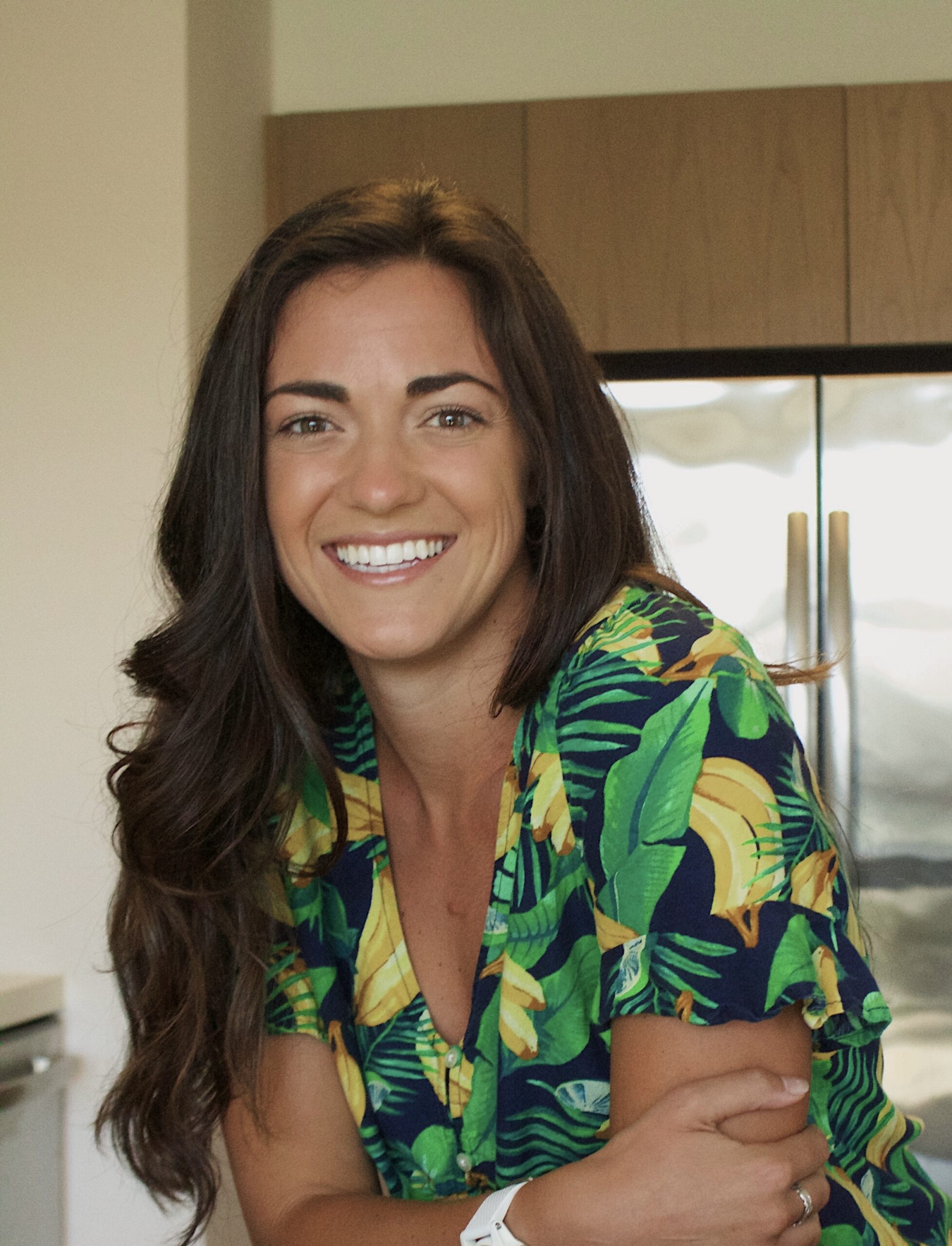 Katie Schimmelpfenning RD, LD is a Registered Dietitian Nutritionist, USA Swim Coach, and former Division 1 swimmer. She helps competitive swimmers fuel and train to optimize performance, recover faster, and prevent injury! She is passionate about spreading evidence-based nutrtion tips to help swimmers across the globe.