Insider scoop, here are 17 unforgettable gifts for a swim coach, written by a swim coach!
Spoiler alert, swim coaches and swim instructors' favorite gifts are not the most expensive gifts! We confidently believe that a thoughtful swimmer gift goes a long way.
Below, I will give you 17 of the most unforgettable swim coach gift ideas, whether for the end of the season or for the holidays! This gift guide is great for busy parents and swimmers and those looking for more affordable gifts!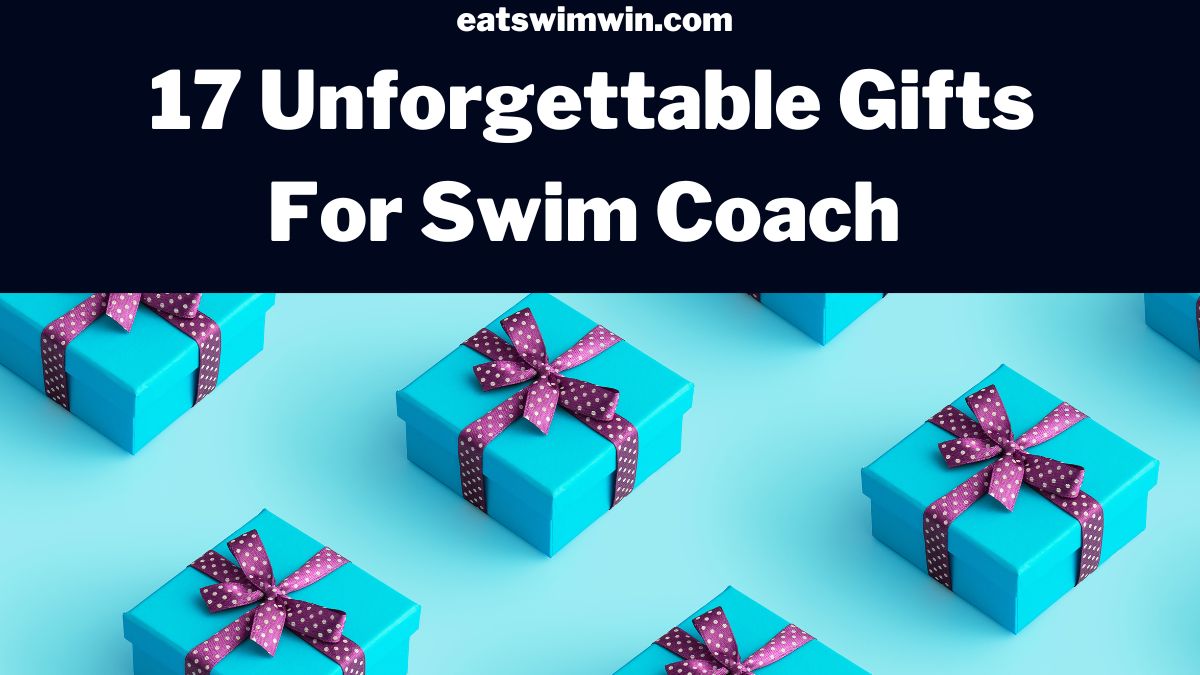 *Note, this section includes affiliate links. As an Amazon Associate, I earn from qualifying purchases.
Gift cards
Who doesn't love a gift card? Many swim coaches work long hours on deck and off deck planning for the season. Make their night easier by purchasing a gift card to their favorite place to eat or gift them an Amazon gift card they can spend how they please!
Or cash! Some teams prefer to come together with their cash and get one large gift card as a group gift to show the team's appreciation.
Coffee mugs
Your swim coach or swim teacher may get their day get started by 5 am! Get them an insulated cup or mug to ensure their coffee stays warm. You can even select a coffee mug in team colors!
Growing up, I can vividly remember knowing what type of mood my age group swim coach would be on Saturday morning, depending on whether or not he had a mug of coffee in his hand.
Coaches love coffee (and tea!). Add your favorite coffee beans or tea bags with this gift or pair it with a Starbucks gift card.
Water bottle
Every coach loves a water bottle or swim coach cup. For a personal touch, add the coach's name and the team logo!
Recently, the team I coach for purchased all the coaches an insulated water bottle! This has been a practical gift that I have put to use almost daily.

As a dietitian and swim coach, I believe there is no such thing as too many water bottles. 😉
Coupon book
Coupon books can be a thoughtful and cost-effective gift for swimming coaches.
Additionally, during the holiday season, small coupon books are sometimes distributed for sale, making them easily accessible for gift-giving purposes.
By giving a coupon book, swimmers can show their appreciation to their coaches while also providing them with a variety of discounts to enjoy.
Some groups or fundraisers may sell discount cards. These discounts are a great way to support an organization you care about and show your coach some appreciation!
Framed photo with swimmer signatures
A framed photo with signatures is a great gift for swim coaches. It involves the team taking a group photo and placing it in a frame.
Each team member can then sign the photo and write a brief note expressing gratitude. This heartfelt keepsake serves as a lasting reminder of the coach's impact and the bond formed with the team.
Food
Seriously, many coaches were once swimmers! And what do all swimmers have in common? We love to eat!
So homemade goodies are always appreciated and are a perfect gift. Bonus, if you can listen when your coach talks about their favorite things.
I once had a swimmer bring my favorite candy because they remembered I had talked about it six months ago. The fact they remembered was more special than the candy!
A competitive swimmer spends a lot of time with their coach, up to 20 hours a week. Be watching and listening to learn more about your head coach.
Cooler bag
Swim meets can make for long days. Some coaches are at the pool all day! Get your coach an insulated back to ward of dealing with their hanger (hungry + angry = hanger).
Here are some of our favorite cooler bags:
Whiteboard markers
This is one of the best gift ideas if you have a coach who writes sets on a whiteboard.
For some coaches, whiteboard markers are an essential tool to give instructions and communicate with swimmers during sessions. A set of markers in a variety of colors can help coaches to relay their ideas more effectively.
This gift shows appreciation for their dedication and provides them with a useful tool to enhance their coaching sessions.
Hat or visor
Protect your swim coach from the sun, get them a hat or visor for outdoor practices and competitions. A cap can improve their visibility and keep them cool and comfortable.
Purchase the hat in your team's color and add the team's logo or the coach's name for a personalized touch.
Clipboard
A clipboard is a practical and essential gift for swim coaches, providing them with a convenient surface to write on during a swim meet.
With a clipboard, coaches can easily reference heat sheets, jot down notes, and keep track of important information. This thoughtful gift enhances their organizational abilities and ensures smooth communication and efficient coaching during competitions.
Bag
Often swim coaches are carrying around a lot of items from a notebook, pens, highlighters, stopwatches, extra swim caps, and more.
Gift your coach a waterproof swim backpack or shoulder bag to carry around their belongings. Bags can also be personalized with the team logo!
To spice up this gift fill the bag with personal care items your coach is sure to love such as sunblock, lip balm with SPF, and snacks!
Notebook
A Notebook can be an excellent gift for a swim coach! Swim coaches use notebooks to help them organize their thoughts, jot down strategies, and track progress.
You can even go a step further and buy your coach a waterproof notebook that can even take notes during poolside coaching sessions without worrying about water damage so they can write down your splits, rain, or shine!
Pens and highlighters
Pens and highlighters are great gifts for a coach that attends swim meets! High school coaches and club coaches often feel like they are in a constant shortage of pens and highlighters.
Pens tend to grow legs at swim meets *cough, cough* swimmers tend to run off with them.
Be sure your coach can catch write down your splits and highlight the heat sheet by gifting them highlighters, pens that don't smear, or waterproof pens!
Door hanger
If your coach has an office door and you aren't sure if they are there, or not, get them a door hanger to hang on the door so you know when they are free to chat!
We love this funny door hanger on Amazon!
Ceramic ornament
An ornament can be a festive gift around the holidays! We loved this swimming-themed ceramic ornament.
Handmade art
Coaches love gifts that come from the heart! If you are a more artistic swimmer, draw your coach a photo, make them something out of clay, or decorate a photo frame with a picture of you and your coach.
This is a unique gift your coach will be sure to appreciate.
Thank you note
A heartfelt thank-you note is a meaningful gift for coaches. They dedicate their time and effort because they genuinely care about their athletes, not for financial gain.
Your personal note will be cherished and appreciated, as coaches often hold onto these tokens of gratitude for years, serving as a testament to the impact they've made on their swimmers' lives.
The best gifts are thoughtful gifts!
Conclusion: ideal gifts for swim coach
In conclusion, coaches do not have expectations for an end-of-season gift or a swim team gift. But, presenting them with a gift, no matter the cost, is a great way to show your coach appreciation for their hard work.
You do not need to spend much money on your coach's gift. These gift ideas can be organized as group gifts, ensuring everyone can contribute without breaking the bank.
Nevertheless, it's important to remember that the most cherished gift for a great swimming coach is the knowledge that their efforts are making a difference, and your daily expressions of gratitude are a priceless reward.
The best way to show gratitude is to say thank you!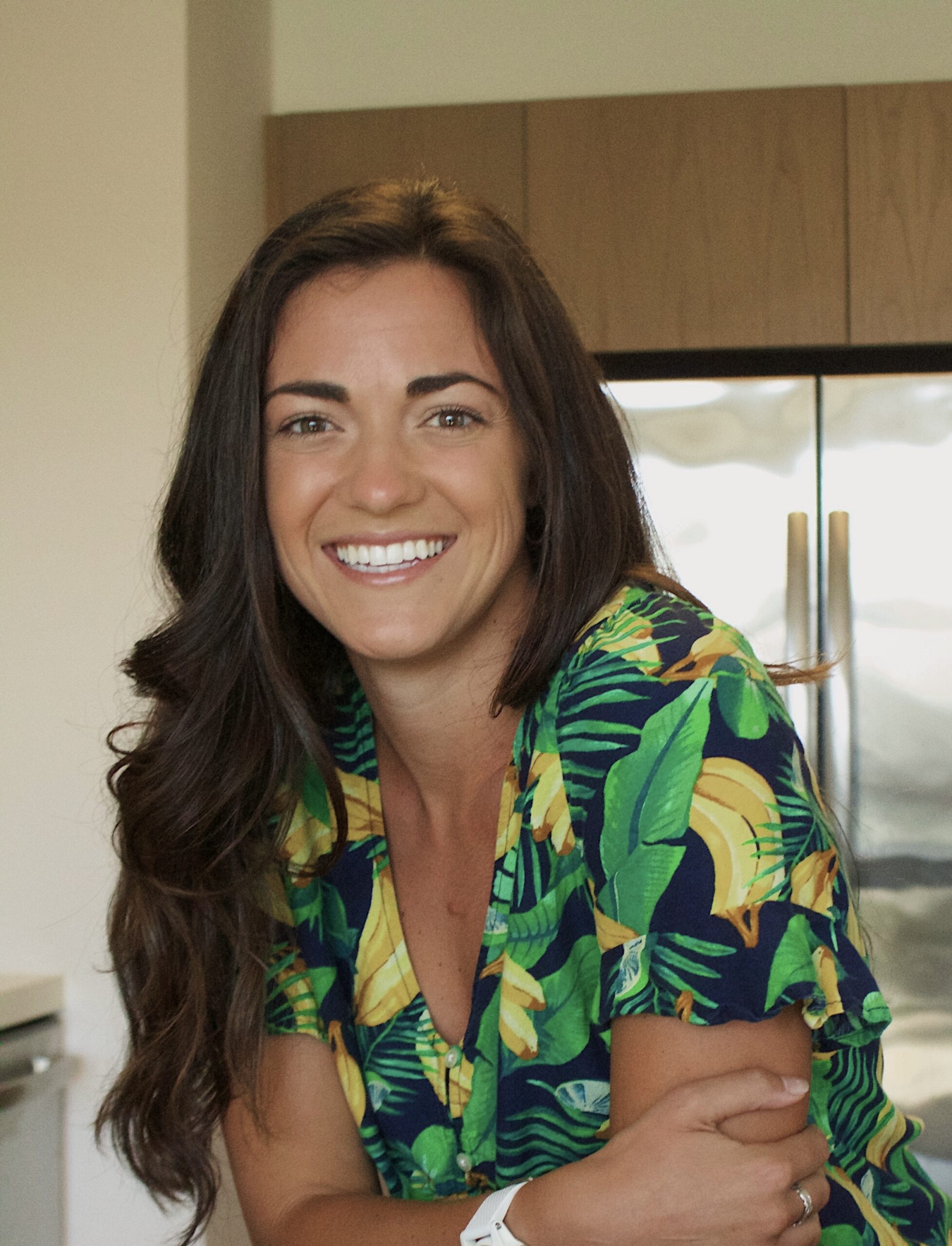 Katie Schimmelpfenning RD, LD is a Registered Dietitian Nutritionist, USA Swim Coach, and former Division 1 swimmer. She helps competitive swimmers fuel and train to optimize performance, recover faster, and prevent injury! She is passionate about spreading evidence-based nutrtion tips to help swimmers across the globe.