Are you new to swimming and wondering what a swim meet is? Then read on!
In this article, we will dive into what a swim meet is, types of swim meets, typical swim meet structure, what to expect at a swim meet, and how to prepare for a swim meet.
Keep reading to learn what a swim meet is so you feel more prepared for your first race!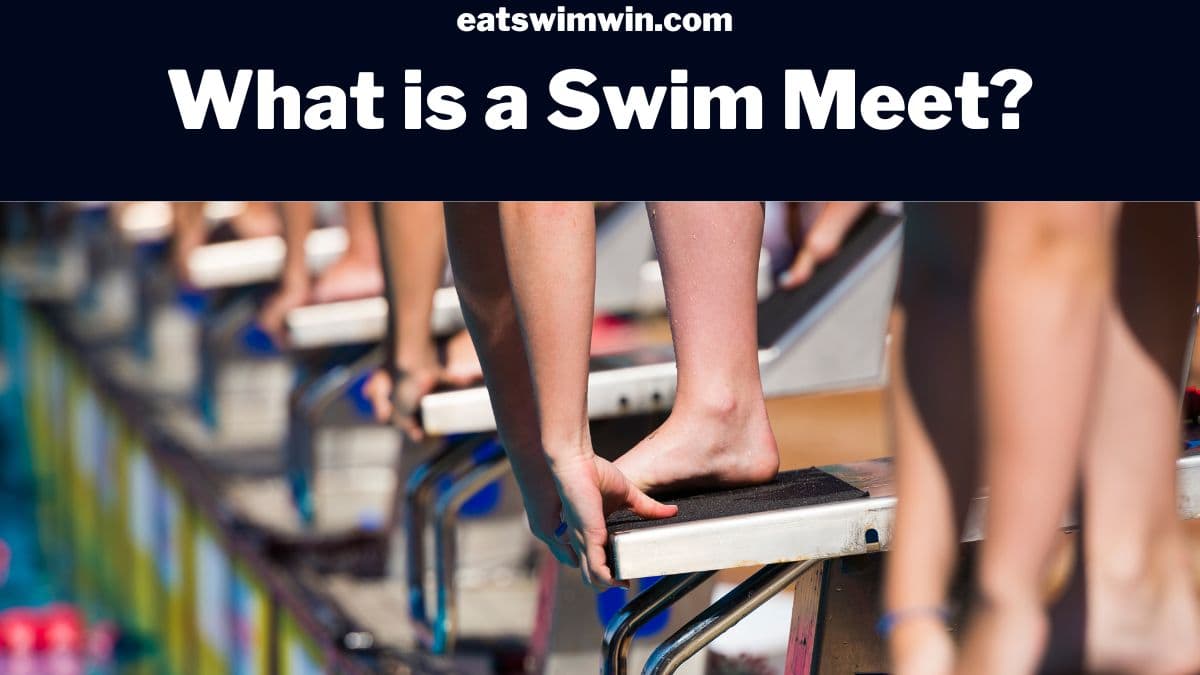 Understanding swim meets
A swim meet is an organized swim competition held indoors or outdoors.
Swim meets are competitions that allow swimmers from other teams, states, and sometimes other countries to compete against each other.
They are equivalent to other sports' "games" or "matches." However, unlike team sports, swimming is more of an individual sport. Aside from relays, swimmers compete independently for their team.
The faster you swim, the higher you rank and the more points you earn for your team.
Why go to a swim meet?
For a swimmer's time to "count" and be recognized it must have been swum at a sanctioned swim meet. Meaning, if you swim a best time in practice, it doesn't count!
To be sanctioned, a swim meet must adhere to USA swimming rules such as:
Swimmers must be registered members of USA Swimming
Follow sanctioned swim meet protocol: timing system, officials present, etc.
Types of swim meets
There are many types of swim meets for club, high school, or collegiate swimmers.
Club swim meets
Swim meet rankings for club swimmers from the easiest to most difficult:
ABC meets
Invitationals
Local Swimming Committee (LSC) Champs (State Champs)
Age Group Regionals or Zones
Senior Sectionals
Futures
Junior Nationals
Senior Nationals
Olympic Trials
Olympics
The time standards for meets are constantly evolving, stay up to date by looking up the time standards for your goal meet. Keep in mind that time standards vary from state to state. 
College swim meets
Swim meet rankings for collegiate swimmers:
Inter squad meet
Dual meet
Invitationals
Conference Championships
NCAA Championship Meet (Div I, II, III)
*Collegiate swimmers also aim for high-level club meets; however, this does not directly impact their collegiate team's season score or rank.
High School swim meets
High school meet structure varies greatly depending on the state. California holds a California Interscholastic Federation (CIF) Championship meet to split up sections of the state and by school division (I, II)
Hawaii has an end-of-the-year meet held by the Hawaii High School Athletics Association (HHSAA).
Check out your state's high school swim association or federation to learn more about qualifying times, invitational, and end-of-the-year championship meets.
Masters swim meets
For adults 18+ there are masters swim meets! Many masters clubs have dual meets, and some states have invitationals but; the highest-ranking masters swim meets remain the Masters National Championship meets and World Aquatics Masters Champs.
Masters swimmers of all abilities from beginners to Olympians can attend any masters championship event.
If you are signing up for less than three events you do not have to have a meet qualifying time! However, if a swimmer wants to sign up for more than three events at the championship meet they must meet the national qualifying times for additional events.
Structure of a swim meet
Swimmers must arrive at least 1 hour before the swim meet (if not more!) to check in and warm up with their team before the meet gets started.
Some meets will have younger swimmers in the morning and older swimmers in the afternoon. Other meets will have girls in the morning and boys in the afternoon. It varies, refer to your coach and the meet information provided to know where and when to arrive.
Championship meets typically hold prelims in the morning and finals in the afternoon.
Events are listed from 1- 50+. Events are slit up by gender, age, distance, and stroke. Within each event there are heats. The more swimmers at a meet, the more heats for each event.
The amount of events a swimmer can swim depends on the meet.
USA swim meets typically allow swimmers to swim 4 individual events and one relay per day. For swimmers that make it back to finals in all of their events, this can be up to 8 individual swims in a day- 4 in the morning and 4 in the afternoon.
Championship meets may have the top 7-10 swimmers go to a podium for awards during the other events or at the end of the meet.
Swim meet results
Depending on the size of a meet, swim meet results get posted anywhere from 15-30 minutes after all swimmers have finished competing in each heat.
The final posted results rank the swimmers from fastest to slowest. Some meets will also upload swim results and splits to an app called Meet Mobile.
The higher you rank, the more points you earn for your team. At championship meets the individuals who make the fastest top 8 heat earn more points even if they swim slower at finals than the B final heat. So it's important to swim fast in the morning to get in the A final heat!
How long does a swim meet last?
This is highly variable.
The more swimmers at the meet the longer it lasts. As you can imagine a swim meet with 7 heats of 13-14-year-old female swimmers swimming the 500-yard free and 8 heats of 13-14-year-old males swimming a 500-yard free is going to take at least 90 minutes.
Now imagine a meet with multiple heats of the mile (1650-yard freestyle)!
Warning, parents, swimmers, and new swim coaches swim meets can last ALL DAY.
This also means you can spend 16 hours at a pool to race for less than <5 minutes.
Cue why having strong team camaraderie is important! Swimmers train hard together so once they complete an event, cool down, and refuel they can watch and cheer on their teammate's races!
What is the energy at a swim meet like?
The larger the meet typically the higher the energy!
Expect lots of cheering, silence at the start of each race, and many chatty swimmers sprawled out around the pool deck, bundled underneath ez ups, or packed in bleachers.
The high energy and camaraderie help to build adrenaline and excitement at a swim meet which helps swimmers to perform even better!
As a former competitive swimmer and swim coach, I have seen and experienced first-hand out-of-this-world best times because of high-energy swim meets and excitement!
What to expect at a swim meet?
Here are some things you should be ready to experience at a swim meet:
Unless told otherwise by your coach, expect to be there a long time (several hours)
Expect to build closer bonds with your teammates
Be ready to meet new swimmers
Suit up to swim fast and have fun
Check out our blog post on things to bring to a swim meet to help you with your packing!
Unexpected things at a swim meet
If you are a new swimmer, here are some heads up on unusual things you will likely experience at your first swim meet:
Locker room nudity: swimmers tend to be pretty comfortable with or without clothes.
Smelly bathrooms: imagine 50+ swimmers having nervous pre-meet poops all at once, prepare to wait in the smelly line when everyone is trying to poop at the same time!
Sportsmanship: after a race, before getting out of the pool, swimmers will often look to the swimmers next to them and say something like, "Good job." Regardless of who wins.
Behind the block chatter: some swimmers like to get behind the blocks much earlier than their event and like to talk with swimmers from other teams. Other swimmers may be more serious and have headphones in right up until they swim.
Writing Sharpie on your body: younger swimmers can be found with their events written on their hand or forearm and sometimes even their heat and lane- all in Sharpie marker!
How to prepare for your first swim meet
Here are our top 8 tips for preparing for your first swim meet:
Use our things to bring to a swim meet checklist to pack the night before
Map the location in advance to see how long it will take you to get there (give yourself cushion time!)
Practice with what you will eat before a swim meet in advance and fuel up the morning of
If you are of age and want to, shave the night before or the morning of to reduce drag
Get at least 8 hours of sleep each night the week leading up (6-12-year-olds at least 9 hours!)
Embrace the nerves and adrenaline, they can help you swim faster
Be ready to have fun!
Conclusion
What is a swim meet? A time for swimmers to swim fast and show off their hard work!
Swim meets give swimmers the chance to immerse themselves in competition and enjoy the connection and energy of other swimmers. They are a great place to race and learn what you can continue to focus on more in practice!
Suit up, race face, and have fun at a swim meet whether you are a beginner or an experienced swimmer!
Other posts you may like: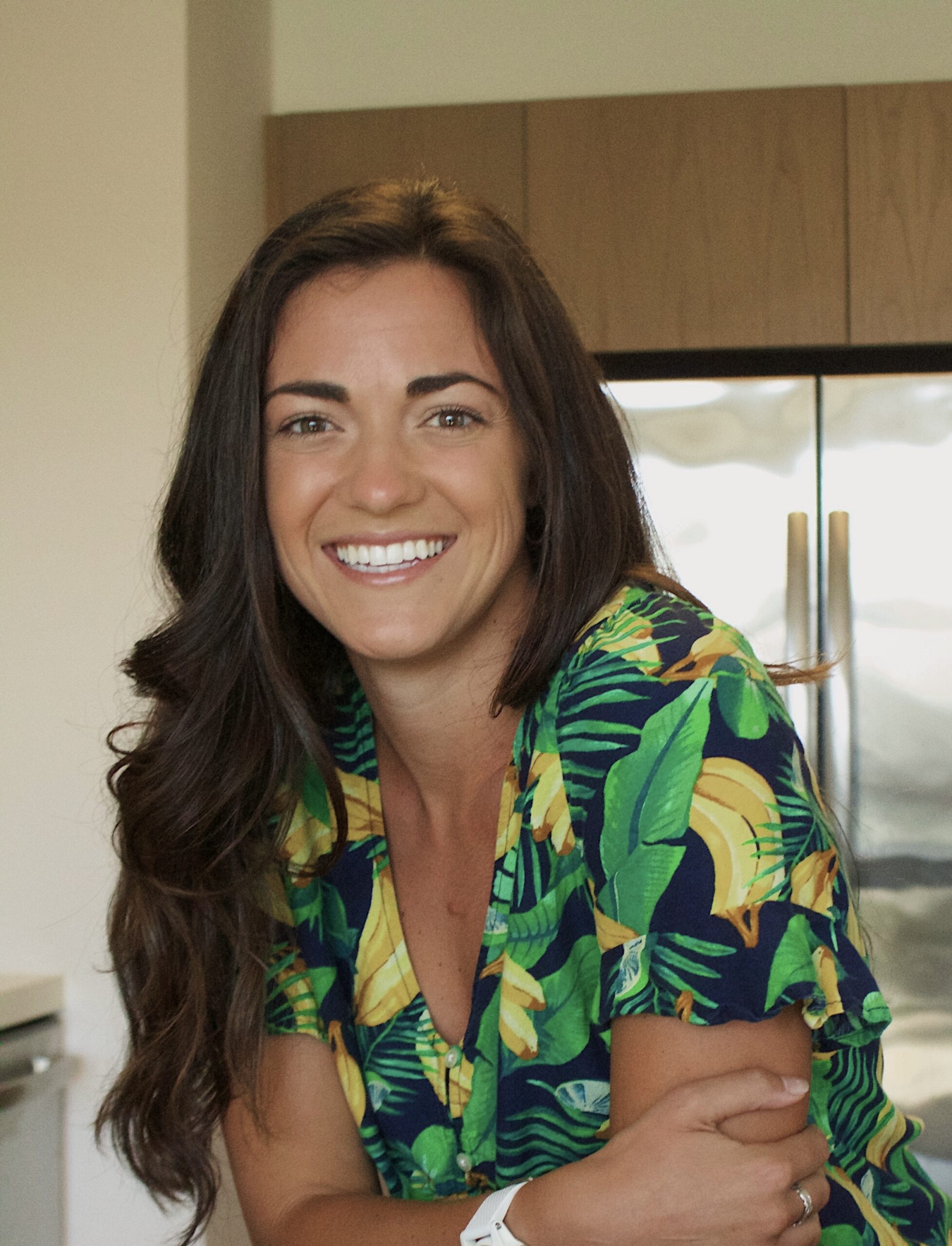 Katie Schimmelpfenning RD, LD is a Registered Dietitian Nutritionist, USA Swim Coach, and former Division 1 swimmer. She helps competitive swimmers fuel and train to optimize performance, recover faster, and prevent injury! She is passionate about spreading evidence-based nutrtion tips to help swimmers across the globe.