Gear up and start training for summer because the North Shore Swim Series is coming up.
The North Shore Swim Series is a 5 race open water series on the North Shore of Oahu that takes place between the months of June-July. Each race is longer, giving swimmers the opportunity to swim the "7-mile miracle" of Oahu's North Shore!
The first race is 1 mile and the last is 2.3 miles of swimming along some of the most epic beaches such as Waimea Bay, Sunset Beach, Haleiwa Beach Park, Pipeline, Chun's Reef, and more.
Keep reading to learn why you should sign up, how to train, and tips to optimize your North Shore Series Swim performance! We will also share our favorite places to re-fuel after the swims.
This is an incredible open-water swim series sure to rekindle or grow a new love for open-water swimming!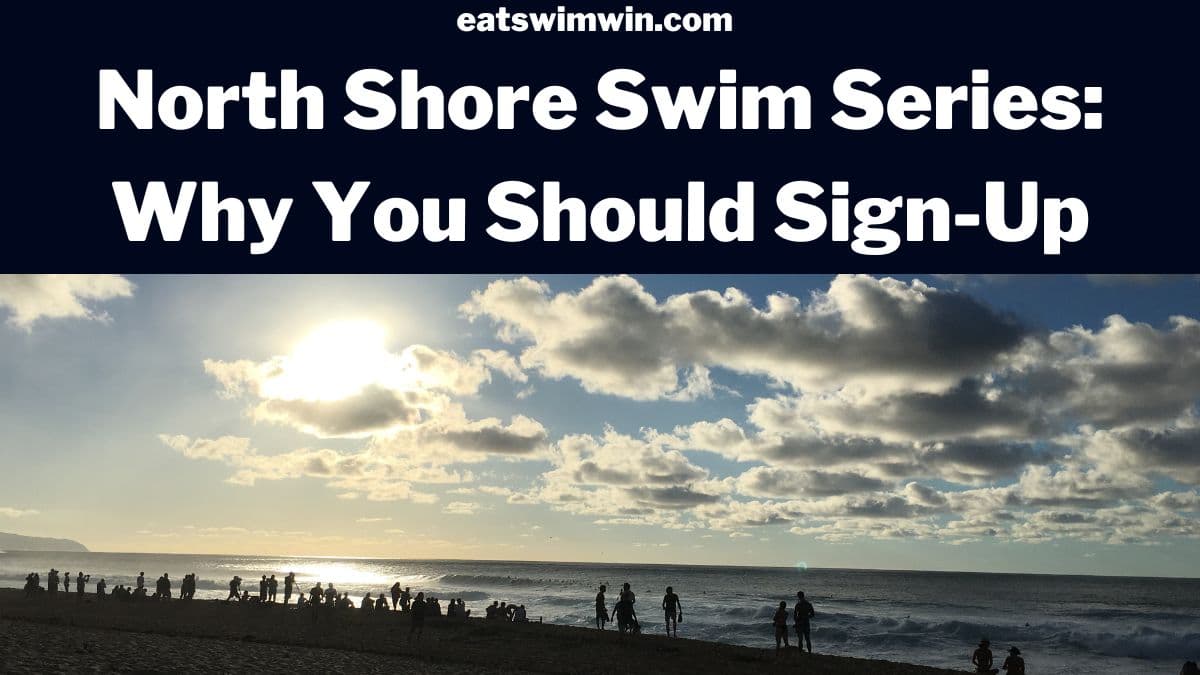 What to expect
Expect to have fun! It's not often that you can swim along Oahu's North Shore. During the winter North Shore is home to legendary surf competitions and giant waves. In the summer the waves are small, gentle, and easy to swim through!
The North Shore Swim Series races get started at 9 AM, if you sign-up in advance you get a shirt for each swim, a latex swim cap, and sometimes other goodies!
Upon the completion of each swim, you are rewarded with tasty snacks and beverages! The top 3 finishers in each category are awarded unique prizes at each swim. 
How long are the swims?
Each swim in the series is longer than the last! The races happen between June and July.
Race 1: 1 mile
Race 2: 1.2 miles
Race 3: 1.6 miles
Race 4: 1.9 miles (postponed till 2024)
Race 5: 2.3 miles
You do not have to sign up for all of the swims! You can stick with the shorter swims if you prefer.
Why you should sign-up for the North Shore Swim Series
Here are 4 reasons we think you should sign-up for the North Shore Swim series.
Motivation to train! Knowing you have signed up for a race series tends to spark fitness motivation for many! Often, Oahu's Master's swim teams grow leading up to series as people begin to train more.
Explore the North Shore. This is a great and safe opportunity to get out and explore the reefs and beautiful views on the North Shore. It's common to see turtles, fish, and dolphins during the swim!
Prizes and goodies! If you sign up before the day of you get a free shirt at each swim (that is 5 shirts total!), awesome prizes for the top 3 finishers in each category, and tasty treats afterward.
Community and connection. The swimming community on Oahu is very welcoming, this is a great opportunity to meet new people.
How to train for the race
Those interested in signing up for all swims in the series should be able to swim 4000 meters or 4000 yards comfortably!
Depending on your current fitness level, we recommended aiming to swim 3000-5000 yards or meters 2-4x per week to train for the North Shore Swim Series. If possible, try to practice swimming in open water prior to race day.
Practice sighting
Open water swimming can feel daunting for those used to swimming in the pool. Why? Because there is no line on the bottom of the ocean to guide you!
To ensure you are swimming straight during the North Shore Swim Series, practice sighting in the open water! Swimming slower in a straight line is faster than swimming all over the place in a zig-zag!
How to sight in open water swimming
When sighting you want it to keep your eyes low to keep your hips from dropping. A high head will drop your hips, creating drag and making it harder for you to swim fast.
Try to coordinate your sighting with your breath. Utilize the catch to slightly propel you up and forward to prevent you from losing momentum.
Check out our video on how to sight in open water swimming!
You can also practice sighting in a lap pool.
Join a masters swim team
Masters swimming is for adults 18 and up! Find a team near you to train with.
Tips For the race
Here are 5 tips to ensure you have a great race at the North Shore Swim Series!
Wear sunscreen, the races start around 9 AM as the sun is coming up. Do not underestimate the UV rays on a North Shore morning.
Vaseline! Prevent chaffing by rubbing Vaseline along your suit's line, in your armpits and anywhere else you think could rub!
Eat a carbohydrate-rich breakfast. Carbs give you energy, make sure you are fueling up with a good breakfast before the swim. Check out our blog what to eat before morning practice for pre-race breakfast ideas!
Hydrate! Ensure you are hydrated the 2-3 days before the swim. Check out our Ultimate Hydration Guide For Swimmers and make sure to drink at least 8oz (1C) of fluids the hour before your race.
Carpool and arrive early. Parking can sometimes be difficult on the North Shore. Check-in for the races typically begins 2 hours before the race. We recommend arriving early to scope out the current, warm up, get your numbers written on you, use the restroom, and apply sunscreen. Plus, the earlier you arrive the easier it is to find parking.
Where to eat after the race
Waialua Bakery: This is our absolute favorite spot on the North Shore and it is the most reasonably priced. They have delicious gluten-free and vegetarian options. Waialua Bakery has the best sandwiches, smoothies, salads, and baked goods. If you have room for dessert don't skip the cookie ice cream sandwich with homemade ice cream. Just make sure to bring cash because this bakery is cash pay only!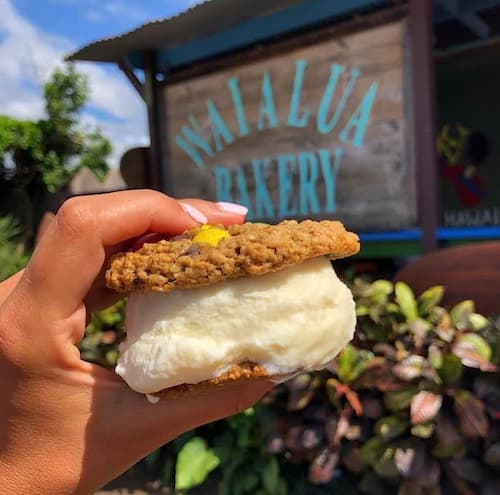 Beet Box Cafe: This is a delicious vegan and vegetarian spot that offers many gluten-free options as well. They have everything from breakfast burritos to pancakes and burgers! Beet Box Cafe is a great sport to refuel if you have dietary restrictions.
Haleiwa Bowls: If your looking for an Acai bowl and a coffee post-swim, look no further! Haleiwa Bowls is touted as the best acai bowl on the island. With many bowls and over 20 toppings to choose from, including gluten-free granola, it's easy to understand why!
Kono's: Looking for some tasty kalua pig? Hit up Kono's for a breakfast burrito that is sure to refuel your body and satisfy your taste buds post-swim.
Giovannis Shrimp Truck: Shrimp trucks are hot spots for tourists. Can we say it's our personal favorite? To us, no. It's a tad overrated, but if your looking for the North Shore Garlic Shrimp Truck experience this is your place!
Swim fast and have fun!
Open-water swimming is a great way to test your fitness and enjoy the scenery.
Don't forget our 5 tips to set you up for a great swim. Sign-up for the North Shore Swim Series this summer, we will see you there!
Check out more races and places on our blog!
Other Posts You May Like
Waikiki Rough Water Swim (Secret Tips!)
The Best Open Water Swimming Nutrition Guide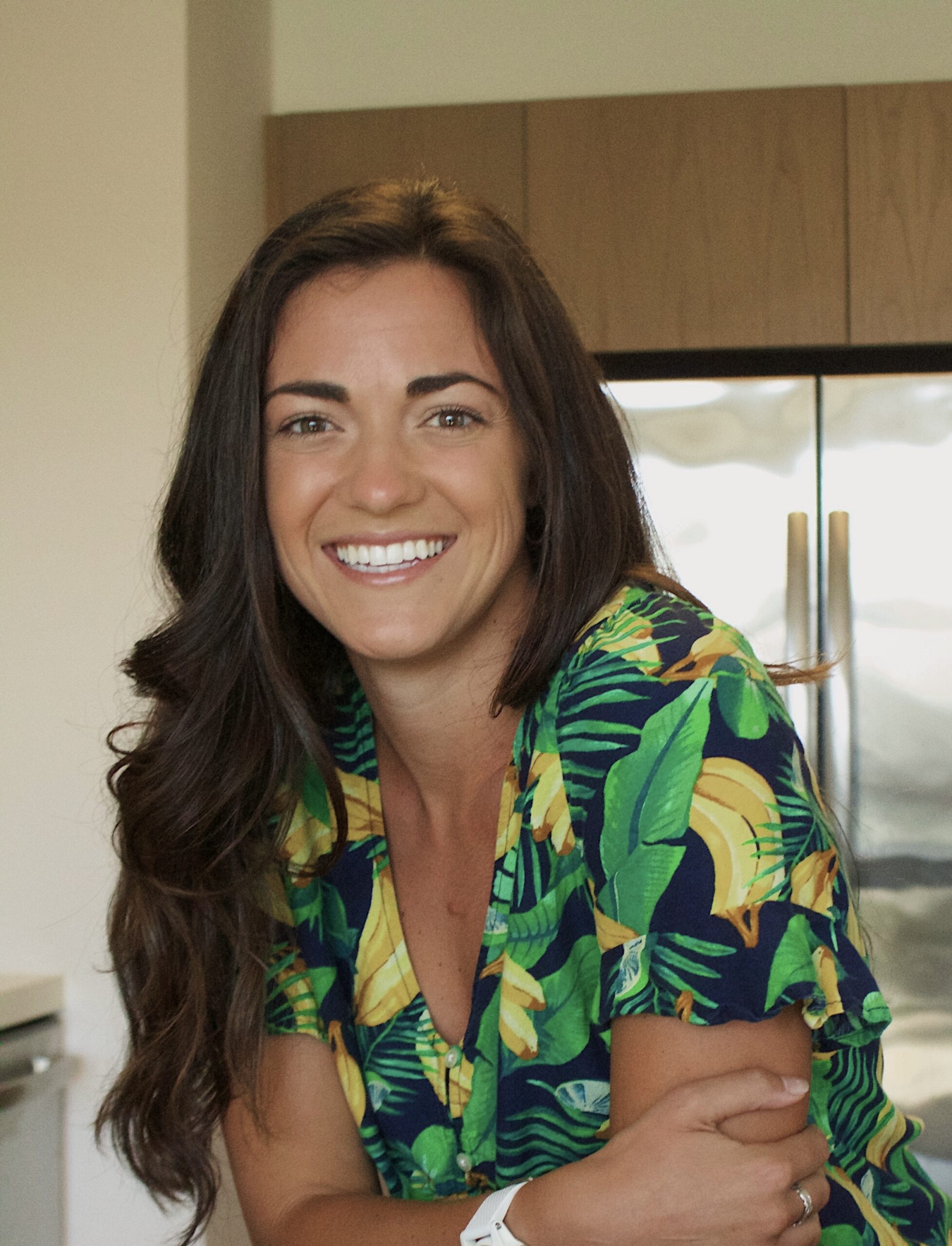 Katie Schimmelpfenning RD, LD is a Registered Dietitian Nutritionist, USA Swim Coach, and former Division 1 swimmer. She helps competitive swimmers fuel and train to optimize performance, recover faster, and prevent injury! She is passionate about spreading evidence-based nutrtion tips to help swimmers across the globe.